How to leverage the potential of Douyin for a marketing strategy?
---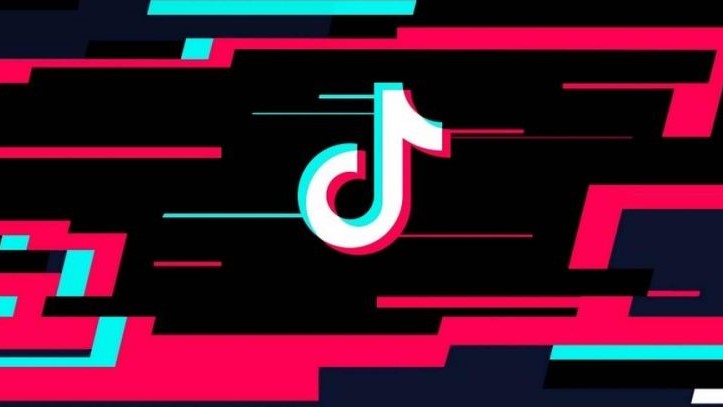 Most of us outside of China are already familiar with Douyin, but under a different name – Tik Tok. You've probably seen videos made viral on either of these platforms, which then get shared all over other social media sites such as Facebook and Instagram. Consisting of short looped videos 15-60 seconds long, Douyin and Tik Tok have tapped into the dominant content model for the next generation.
Background to Douyin
Both Douyin and Tik Tok are owned by Bytedance, a Beijing-based technology company known for developing Toutiao, a major news app. Bytedance launched Douyin in 2016, basing it on Musical.ly, a lip-syncing app hugely popular amongst the Gen Z demographic in the US. In 2017, Bytedance bought out Musical.ly and in 2018 merged it under Douyin, renaming the app Tik Tok for international users and keeping Douyin as the app for Chinese users.
By the first half of 2019, Bytedance overtook Chinese internet behemoths Baidu and Tencent to take on the second-largest share of China's digital ad market at 23%. In April 2020, Bytedance has announced a new round of hiring, looking to hire 10,000 employees globally, despite the global economic slowdown from the coronavirus.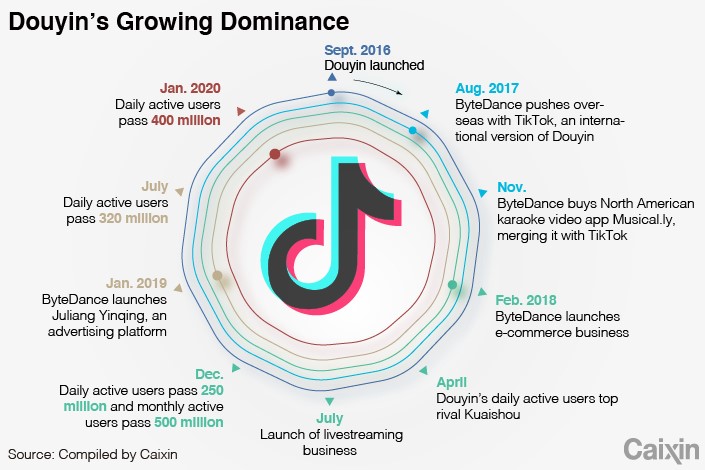 Source: Caixin
Douyin is expected to grow 28% to over 440 million users this year, meaning that more than half of China's internet users will be using the short-form video app, according to eMarketer's new estimates (Source: emarketer.com). At this pace, Douyin is expected to become a major social media platform in China and an inevitable part of the Chinese marketing strategy.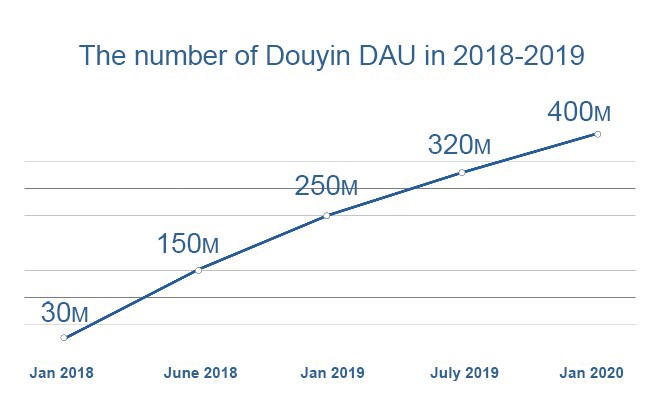 Source: Douyin 2019 annual report
Demographics
Millennials users make up the biggest portion of Douyin's userbase – 47.7% of users are aged 25 to 35, while  21.7% are generation Z, ages under 24. 44% of audiences being from tier one and two cities in China the most developed metropolitan areas. These numbers mean Douyin is a platform that resonates with China's young, affluent consumers, being in prime position to serve as the next generation's social e-commerce platform.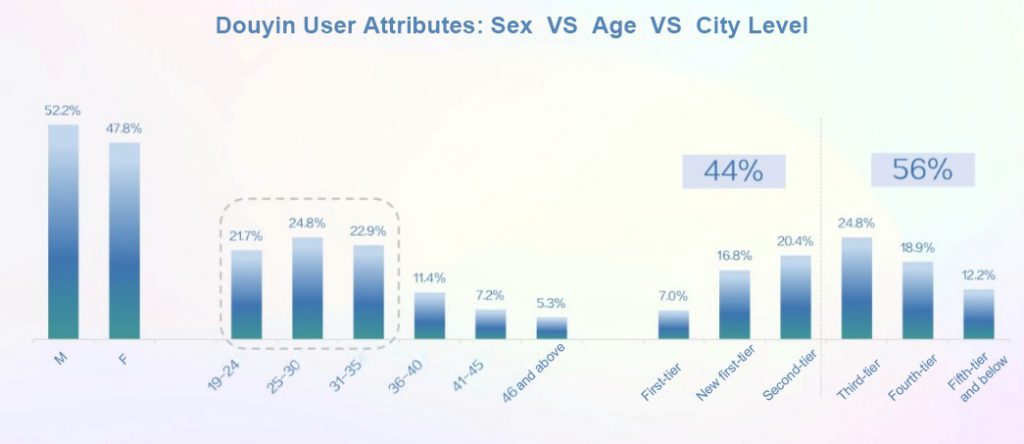 Source: QuestMobile report
The types of videos that rank most popular on Douyin usually revolve around pets and food. As with most short video apps with user-generated content, relatable and humorous videos top the charts. But unlike Western audiences, Chinese viewers are more drawn towards knowledge-based videos while dance videos are predominantly the domain of those born in the 60s.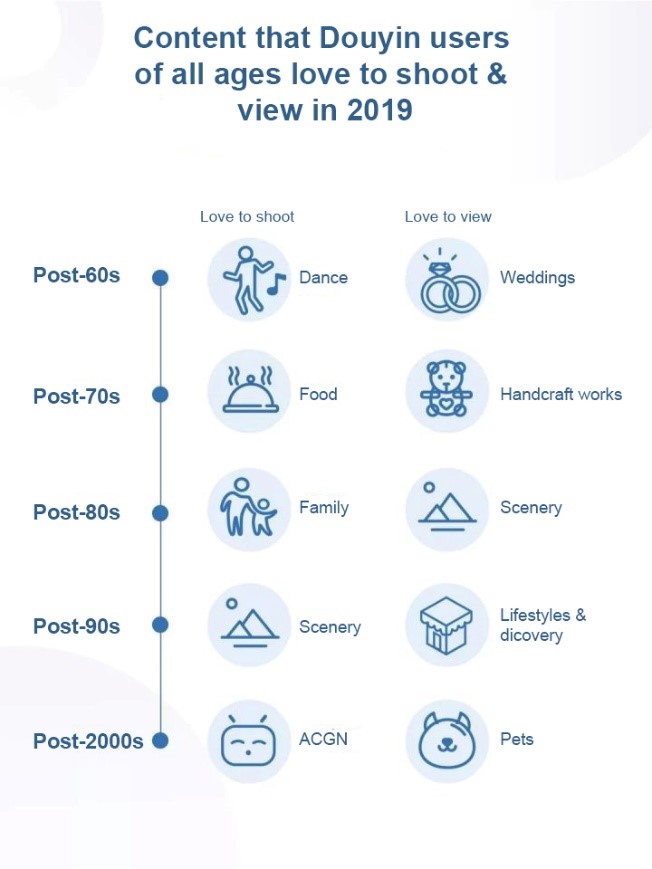 Source: Douyin 2019 annual report
E-Commerce Integration on Douyin
As social shopping has become the norm in China, most Chinese social media platforms have integrated online shopping portals into their apps. As such, Douyin offers a set of distinct advantages for e-commerce over its sister global platform Tik Tok.
In early 2018, Douyin signed an e-commerce deal with Alibaba's Taobao, the world's biggest e-commerce site, integrating a shop now icon during videos so users could buy from the brand's Taobao page, kickstarting Douyin as a social e-commerce platform. Today, Douyin also boasts a mini-app system that allows for quick access to Tmall, Xiaomi, NetEase Koala, JD.com, Suning, and other e-commerce platforms within the app.
Source: Marketing To China
Besides, Douyin users can also search for products on Douyin, with results including products on platforms integrated through the mini-app system.
How to integrate Douyin into your digital marketing strategy?
1. Setting up e-commerce on your Douyin account
Currently, anyone with more than ten videos can link their Taobao account to Douyin. You must verify your identity or your company. When that's completed, you can click share merch to apply for the store. After the application is successful, you can now link JD, Tmall or Taobao store and add products to your Douyin e-commerce store.

Source: Zhihu
2. Verified account for brands
Much like verified checkmarks on Twitter, Douyin also has a verification option for businesses. For a fee of 600 RMB, you can verify your business on Douyin to give your brand account visibility and credibility for consumers. You will get access to viewership data and your content will be boosted to the top of results for selected keywords.
It's also important to ensure your business is eligible for registration on Douyin. Industries such as healthcare, internet finance, and tobacco companies are excluded. Also, currently, foreign companies can't apply for official verification on Douyin directly (only Tik Tok). If they want to enter the Chinese market via Douyin, they will need to find a local business partner to help, such as Melchers.
3. Using Douyin for ads
There are three types of advertising models on Douyin: native ads, splash ads, and KOL marketing.
– Native ads on Douyin are similar to sponsored posts on Instagram or Facebook, appearing as sponsored in your video feed.
– Splash ads are common in Chinese apps. This ad will pop up when a user opens the Douyin app, appearing for a maximum of four times a day.
– KOL marketing is the Chinese way of saying influencer marketing. KOL accounts on Douyin with three to five million followers can command up to 50,000 RMB to 100,000 RMB for promoting a product.
4. Using Douyin recommendation mechanisms
Douyin also has recommendation mechanisms, with an algorithm that doesn't necessarily promote accounts with a large number of followers, but rather is based on an initial pool of followers and their engagement with the content. There is also an additional manual screening with official Douyin editors who choose which videos to recommend. Older videos are also sometimes dug out to be promoted, so if your video doesn't go viral the first time, weeks or months later it may. Knowing this, companies should aim to build a pool of engaged followers.
Douyin Social Marketing Case Studies
How have brands and influencers leveraged Douyin? By taking a look at these case studies, we can get a feel for what type of marketing strategies are suitable for your brand.
Michael Kors Hashtag Challenge – Direct partnership
Douyin's first partnership with a luxury brand was with Michael Kors. The campaign got Douyin "in-house" KOLs to promote a "city catwalk" hashtag challenge amongst their 4 million fans. They invited users to do their own 15-second Douyin clips walking through the city with the hashtag. While a direct partnership with Douyin is more costly than going through individual KOLs, it guarantees a wider reach.
Haidilao Hot Pot – Online to offline engagement
Haidilao, a popular Chinese hotpot chain known for customer service, launched a Douyin DIY dishes challenge. Encouraging users to DIY their hotpot dishes and posting their video recipes on Douyin, Haidilao was able to leverage online user-generated content into increased in-store customers with zero advertising spend.
Chenyan – Taobao store success driven by Douyin viral marketing
A video of Chenyan modeling her purple sweatpants to look like a high school uniform went viral on Douyin, netting 1.7 million likes. Cranking out more relatable and casual videos to market her Taobao clothing store on Douyin, she was able to make 3.6 million RMB in sales on Single's Day 2018, China's version of Black Friday, and 4.4 million RMB sales during Double 12 shopping festival, the follow up to Single's Day.
How Melchers can support foreign businesses in China
China's digital landscape is shifting at a much higher speed than elsewhere in the world. Whether you have an established company looking to break into the Chinese market or a small/medium-sized company looking for a foothold, knowing how to successfully navigate the diversity of Chinese platforms is becoming a mandatory skill. That's why it's important to have an experienced China partner such as Melchers to guide your business through this new environment. Melcher's openness and willingness to continuously adapt our business activities flexibly to suit local economic and cultural conditions are the reason for our success in our 155 years of operation in China.
Melchers provides a complete end to end digital-execution service for Western-brands wishing to define a strategy for China through to market implementation. We manage the client relationship in Europe and China, to ensure strategy, planning and projection is set out at the onset. Local teams based in Shanghai and Beijing oversee campaign implementations. Among our digital marketing services, we design, build and optimize web and mobile presences in China to drive customer acquisition including social media activation on different channels. Our team engages in content creation and management of your social media accounts and is driving digital marketing campaigns.
To learn more, please contact us at marketing@bj.melchers.com.cn.