Retail Trends for Western Brands in China
---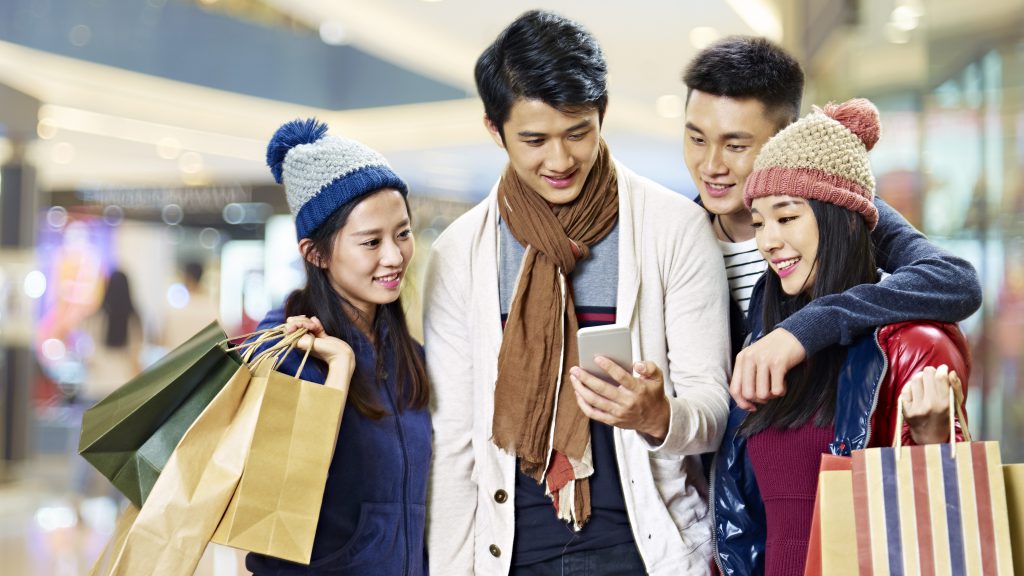 As the saying goes: the dead live longer. In China, too, brick and mortar retail was predicted to collapse and become irrelevant. The speed with which consumers adapted to digital and mobile shopping, resulting in annual e-commerce growth rates of over 30% and China becoming the world's largest online market, was supposed to be an indication of a dying physical retail space.
A bet between Wang Jianlin, chairman of real estate group, Wanda, and Jack Ma, founder of Alibaba, is revealing. When Ma boasted during a joint TV appearance in 2012 that e-commerce would replace traditional retail, Wang rejected the thesis, and bet online trade would not exceed 50% of total retail sales within the next ten years. The loser would have to pay RMB 100 million.
Despite researchers at eMarketer cutting their 2019 consumer spending forecast in China, down to USD 5.3 trillion due to the US-China trade war, they expect China to overtake the US as the world's largest consumer market within the next two years. According to the National Bureau of Statistics of China (NBS), from January to August 2019, the share of online trading in physical goods was 19%, one percentage point higher than the previous year.
New Retail
Instead of an either-or, the future of retailing lies in integration. Similar to in the West, where online merchants such as Amazon are advancing into stationary retail through takeovers and the opening of their own stores, online retail is also merging with stationary retail in China. Since 2016, the catchword has been Jack Ma's coined term 'New Retail,' which encompasses the integration of online, offline, technology, data analysis and logistics in a single value chain. The focus is on the customer and their experience along all touchpoints and devices. The integration concept has itself developed into a market for retail digitalization.
Anyone who wants to experience New Retail firsthand can do so at European sporting goods retailer Intersport's flagship store in Beijing. The store is co-branded with Tmall, Alibaba's online marketplace, as well as integrated with the latest technological trends to enhance the shopping experience. Customers are first greeted with sensors that recognize sex and age and given initial recommendations from the store's inventory of products. Inside, the store's linked mirrors detect when a garment is being tried on and can provide product information with the help of an AI assistant, who can then offer a list of complementary products to purchase. Throughout the store are QR codes. Once swiped, the QR code connects the customer's smart device with Intersport's online store interface. After fully logging in, data is automatically shared between the customer's personal account and the store. Should a product be unavailable in a desired size, it can be ordered online and delivered within 24 hours. Through an augmented reality game, customers can win vouchers and share Intersport's unique series of cartoons on social media. Going forward, Intersport plans to open more experiential stores using a similar online-offline integration, after further data analysis helps the company choose a suitable location.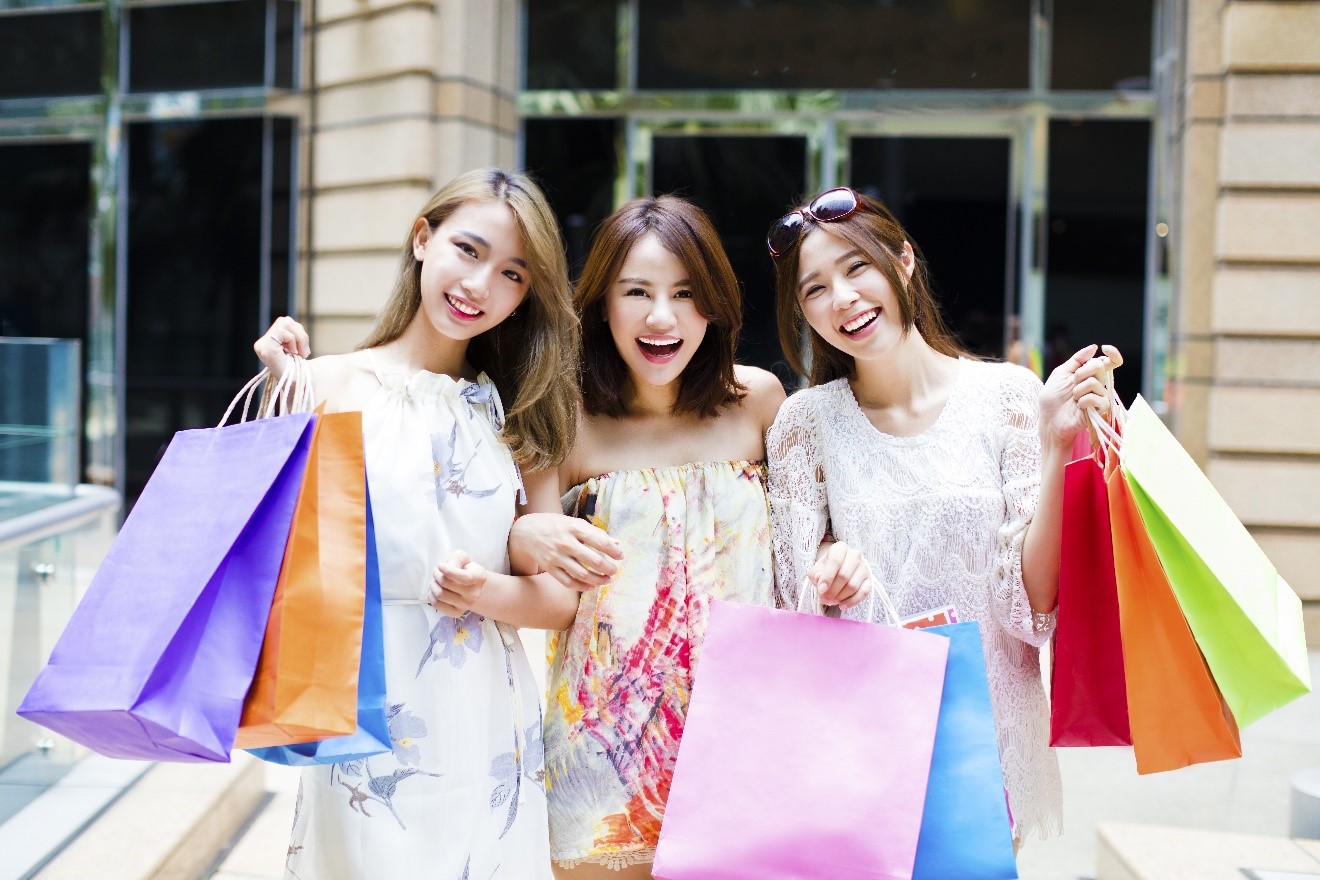 Focus on Customer Experience
The integration of stationary retail and e-commerce requires the formulation of an omnichannel strategy that is retail category specific. What all retail categories will have in common, however, is the use of technology to ensure a seamless, barrier-free customer experience from online to offline. This is pivotal, as a gratifying shopping experience influences the consumers buying decision journey. A McKinsey & Company digital consumer trends survey from September 2019, found that for China's biggest e-commerce category "apparel", 85% of shoppers engage with both online and offline touchpoints before purchase (see Exhibit). The fundamental needs of a consumer, such as seeing and feeling products firsthand, trying them on and the immediate accessibility of the products in-store, are highly valued. At the same time, physical stores also serve as a showroom, once consumers have researched online, read customer reviews and checked for promotions, to learn more about the product and brand. In-store sales personnel have a crucial role in further persuading customers through product presentations, suggestions and consultations.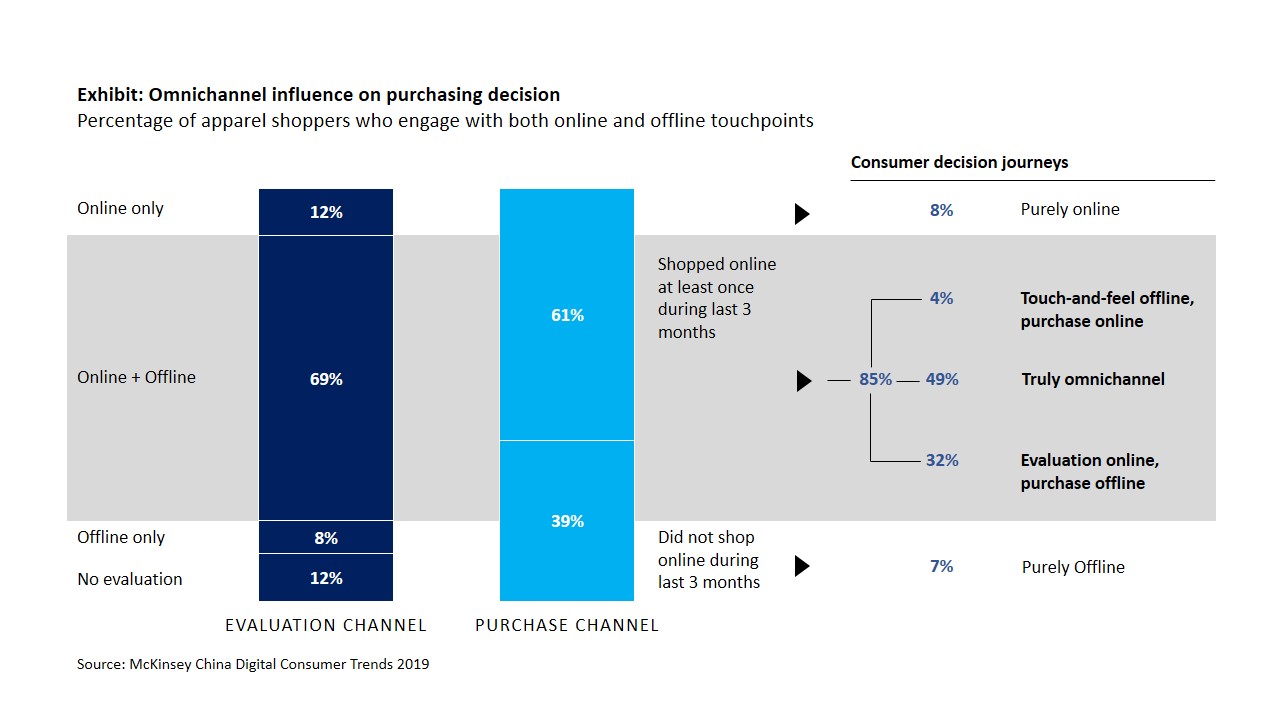 Silos separating online and offline channels need to be broken down to enable consistency across physical and digital channels, such as uniform pricing and assortment. To ensure a superior customer experience across all channels, the omnichannel strategy needs to secure high interconnectivity and communication across channels. For example, many brands now provide retail store pickup for online purchases. This service requires online sales functions to maintain close communication with retail stores in order to have the right product available on time when the customer walks in.
Customers are also becoming more demanding and driving the push for transformation. In PwC's Global Consumer Insight Survey 2018 China Report, 67% of Chinese consumers surveyed stated, for example, they expect retailers to be able to keep customer data and information up to-date and personalize their shopping experience. This is usually done using China's all-purpose weapon, WeChat. The app allows brands and retailers to interact with their customers by answering questions, informing about promotions and events, providing geolocation services and selling products through a WeChat mini-program. The app also lets retailers set up and manage loyalty programs, as well as connect shoppers to third parties within WeChat's ecosystem.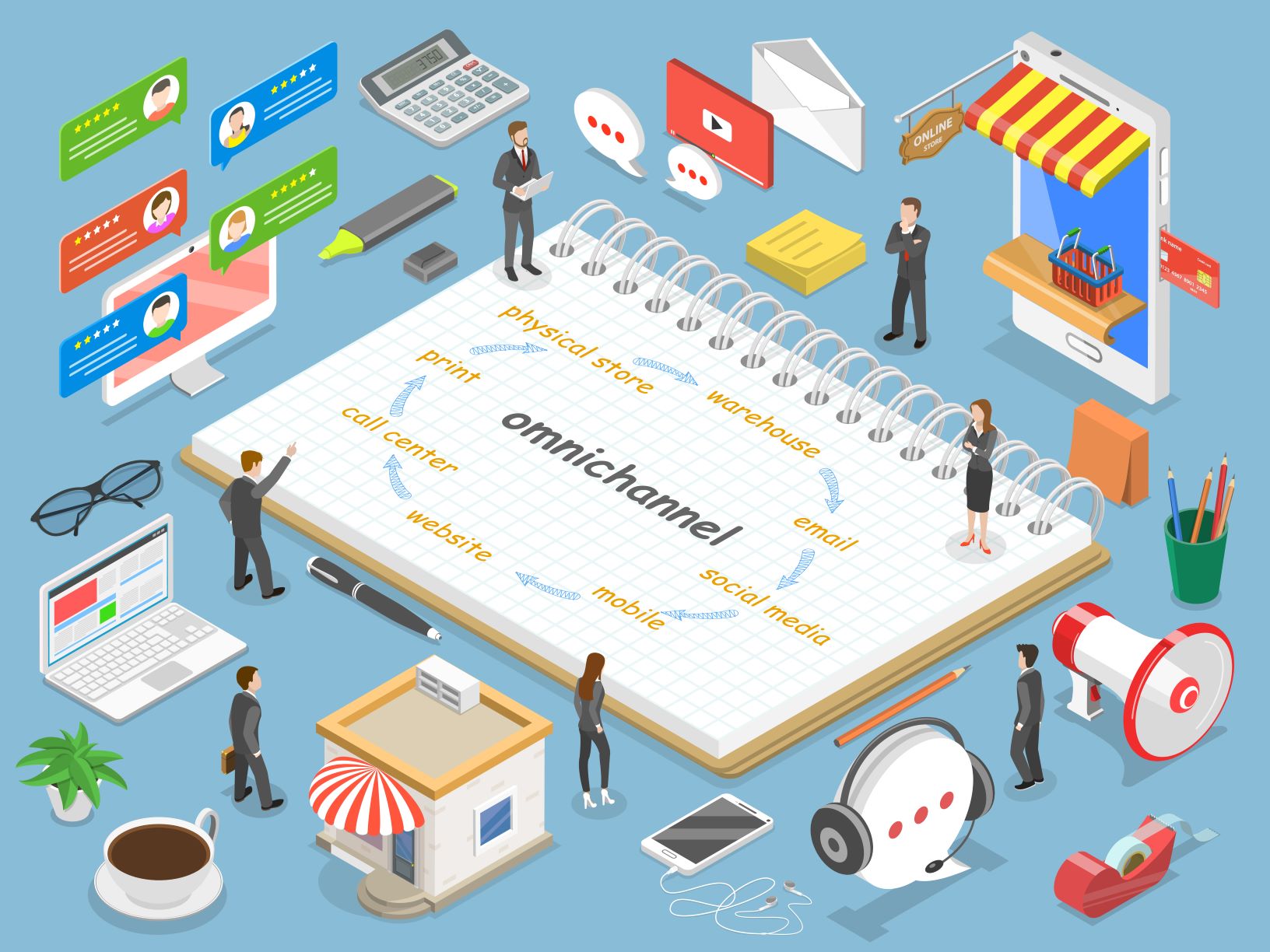 Create Unique Selling Points
The British House (TBH), a department store in Beijing modeled after a London townhouse, displays more than 100 British premium fashion and lifestyle brands in its two-floor showroom. Brands use the sales floor to exhibit their products in a traditional British setting and sell online through the TBH WeChat mini-program. Shoppers at TBH can also enjoy a unique tea experience at Harrods Tearoom. In an interview with Jing Daily, Harrods' Managing Director Michael Ward said that Harrods wants to use the tearoom at The British House to both increase its customer relations and promote itself in China. The British House also regularly organizes UK-related cultural events to appeal to British culture lovers.
While not a traditional retail brand, the British soccer club, Manchester United, is well known for being one of the most commercially successful soccer clubs in the world. Just a stone's throw away from The British House, the club opened Phase 1 of its first-ever experience center in July 2019. The experience center uses technology to offer interactive and immersive experiences for fans. The facility includes a full-scale replica of the Trinity Statue at the club's Old Trafford stadium, a mockup of the changing rooms, press area and an interactive showcase of the club's historical moments and triumphs. The replica of the players' tunnel from Old Trafford incorporates state-of-the-art sound and lighting effects to enhance the experience of fans before entering the soccer pitch.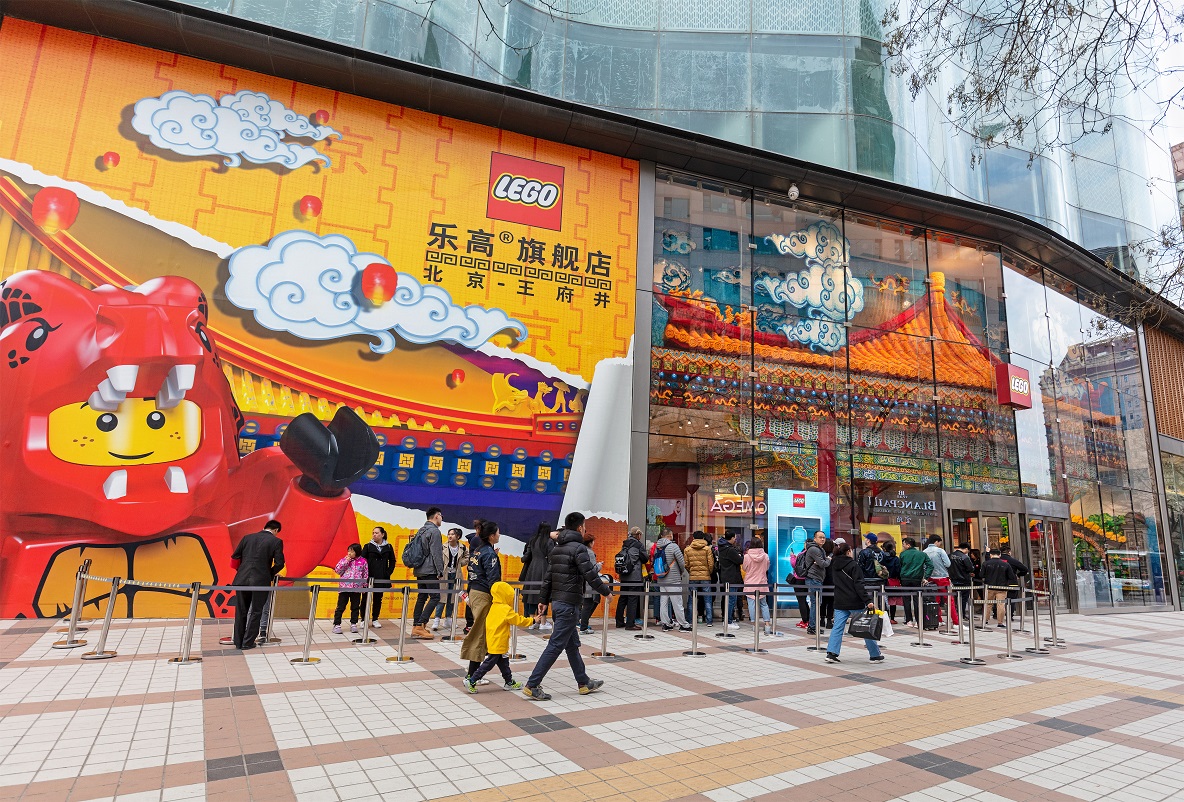 Since Chinese consumers are becoming increasingly shopping-savvy with high expectations, retail stores need to incorporate the latest technology into their store design (See also our related article on Translating Your Offline Experience to Grow Online).  The Danish toy manufacturer Lego, for example, has decided to individualize the design of its different flagship stores in Shanghai and Beijing. The new stores will also highlight unique experiences only found in-store, such as Lego's Mosaic Makers, which allow customers to construct self-portraits using face-scanning technology and Lego bricks. The store's oversized 3D models of local sights made from Lego bricks, as well as interactive photography and games that can be shared on social media, provide unique selling points.
Finding the Right Strategy
The Chinese consumer market's size and growth rate is seducing, but Western brands usually find it difficult to understand the market and trends correctly. Chinese consumer groups are too heterogeneous and regionally different. Challenges, such as expensive rent, maintaining landlord relationships and local competition, also prevent Western companies from breaking out. Companies should consider the following retail strategies in China.
– The Chinese market devours high financial and management capital. Anyone who wants to work with China at a low cost has already lost before he starts.
– Depending on the willingness to invest and the desire to control, the right structure has to be chosen: own stores (Zara, Aldi), joint venture (Galeries Lafayette), franchising (adidas), licensing (Disney), trading partner (Pandora), or a mixed form (Lego). No matter the choice, customers expect a seamless shopping experience across all channels. Products have to be available anywhere at any time.
– Create customer experiences. The merging of online and offline offers numerous possibilities to create unique barrier-free customer experiences that are in line with the brand image. Openness to new technologies is a must.
– Marketing mix. If you want to address consumers effectively, you need a localized (digital) marketing and communication strategy.
– The needs and habits of Chinese consumers are changing rapidly. The local staff should be listened to and the China strategy should be regularly adapted.
– Holistic view. Chinese shoppers buy premium products predominantly overseas. More and more luxury brands begin to see their brick and mortar stores in China not as solely local point of sales, but rather as investments into their brand equity.
For companies, it is important to keep an eye on the integrative retail world and to identify growth opportunities. Local partners can make a decisive contribution to success based on their market knowledge, insights and experiences.
About the author
Mike Hofmann, MBA is the Managing Director of Melchers China in Beijing, a retail partner and service provider focused on premium brands in China. He can be reached at hofmann@bj.melchers.com.cn. More information on Melchers: www.melchers-china.com
This article was published in the Business magazine GC Ticker Winter 2019 edition.