Social Commerce – The Power of KOLs
---
Social Commerce, known in China as社交电商 (shejiao dianshang, literally "social e-commerce"), is a buzz word of our time. It describes the merging of e-commerce with social networks. This form of e-commerce has experienced a significant development boost in recent months.
The first forms of social commerce emerged in the early 2010s, when social media posts were linked with a "buy" function. Today, it is all about that interaction and user-generated content in interaction with each other form an integral part of the digital shopping experience.
Product reviews, comments, and sharing by consumers and the so-called Key Opinion Leader (KOL) determine the success or failure of a product in China. According to calculations by the market research company eMarketer, the market volume of social commerce in China will reach more than 242 billion USD in 2020 and increase to more than 474 billion USD by 2023. This corresponds to a share of 11.6, respectively 14.2 percent, of the total Chinese e-commerce volume. In 2019, the volume was already ten times the size of the US. To benefit from the trends, brands need to understand the social commerce boom and correctly align their marketing activities.
Social Commerce Platforms: Three Categories
Social commerce platforms can be divided into three categories: content-sharing, membership-based, and group purchasing. These platforms are characterized by the ability to search for product information, comment on, share their product experience, and buy products.
Content-sharing platforms include WeChat mini-programs, Xiaohongshu (aka Litte Red Book), or the short video platform Douyin (aka TikTok). Member-based platforms include Beidian or Yunji. The largest group purchasing platform is Pinduoduo. While Pinduoduo was best known as a platform for low-priced products and food, the platform is now becoming more interesting for international brands due to its strength in China's Tier 3 and Tier 4 cities. Platforms also cooperate. In September 2020, Yunji organized a live-streaming event on Douyin for its members to distribute household appliances, cosmetics, skincare products, and food.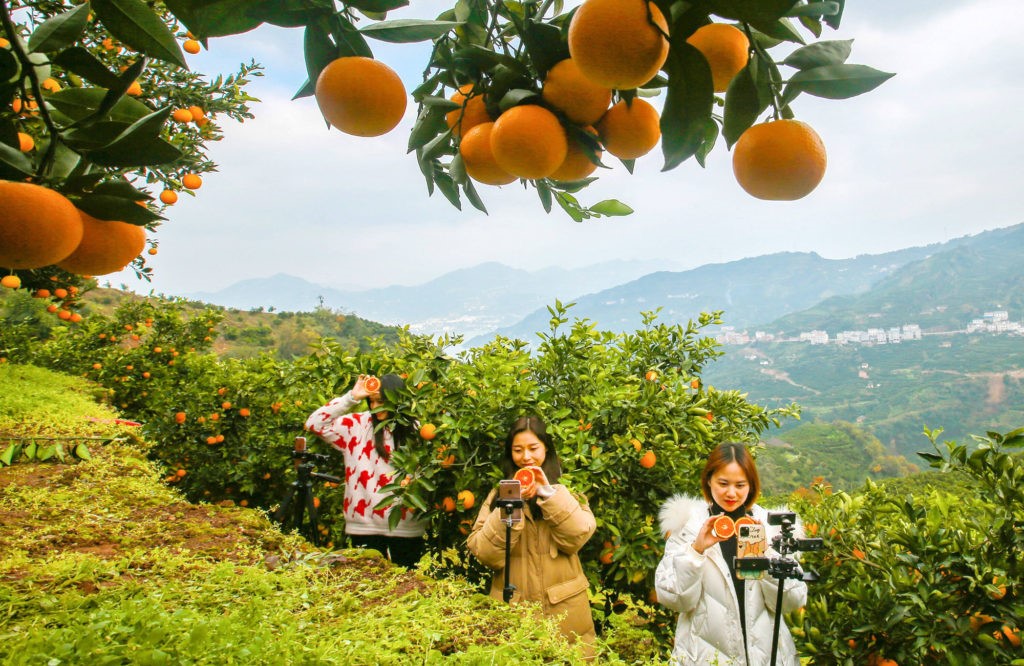 At the beginning of December 2020, the harvesting of Navelorangen began in Zigui County (Hubei Province). E-commerce livestreamers advertise the tasty fruits on an orange plantation in the village of Leigutai. Photo:  Xinhua (Wang Gang)
COVID-19 as Trendsetter
The COVID-19 pandemic has accelerated the already existing social commerce trend. Live streaming has received the most significant single boost among sales and marketing channels. Many brands have tested different formats, including sales shows. The range ranged from cosmetic brands such as L'Oréal or Estée Lauder to sports goods manufacturers such as Adidas and car manufacturers such as BMW. Short video platforms have expanded into full-fledged social commerce platforms. Douyin, for example, simplified e-commerce capabilities, expanded them for small retailers, and made it possible for brands to make greater use of this platform for digital distribution. Also, retail sales personnel has been retrained for distribution on social commerce platforms.
Luxury brands have also ventured out due to closed shops and travel restrictions. In March 2020, Louis Vuitton became the first luxury brand to open an official account with Xiaohongshu and organized a live streaming event. The live streaming consisted of a mix of the product presentation and styling tips; a guest was interviewed, and there was the possibility to interact with sales personnel and buy the brand's products. Louis Vuitton chose Xiaohongshu because of the profiles of the more than 100 million daily users of the social network, which is mainly used by women under the age of 40. Users share product recommendations and give beauty tips by posting and discussing photos and videos.
Tencent pioneered the broad adaptation of social commerce. The company launched and established WeChat mini-programs in 2017. In 2019, these mini-programs were already carrying out transactions worth 115 billion USD. The programs are integrated into WeChat and allow brands to interact with their customers, provide a platform for exchange and discussion, inform about sales promotions and events, and sell products. During the pandemic, many brands and retailers used mini-programs for the first time to digitally maintain contact with customers and reach new customers. Service providers have developed new software solutions that help retailers and brands use their retail salespersons as online shopping guides and direct online sellers.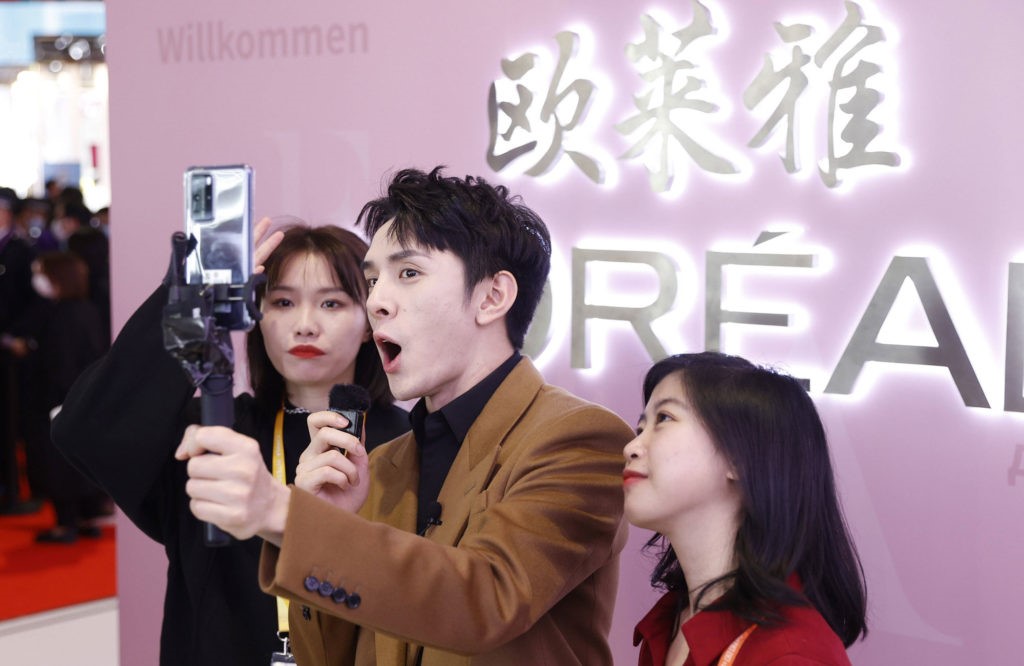 Li Jiaqi, influential Chinese KOL, at online sales at the China International Import Expo 2020 in Shanghai. Photo:  ZUMA Wire
The Role of KOLs
The increasing importance of social commerce is mainly linked to the influence of Key Opinion Leaders (KOL). For example, a 2019 study by Tencent and BCG found that more than 70 percent of consumers surveyed were influenced by KOLs when they made the purchase decision. This is especially true for buyers of luxury goods under the age of 30. While in the West KOLs are called influencers and focus on a few areas, China's KOL landscape is diverse and specialized. KOLs exist in almost all product categories and lifestyle areas.
Gender boundaries are also crossed. One of the most well-known KOL in the cosmetics sector is Li Jiaqi, who specializes in lipsticks and has formed a huge fan base of over 30 million followers. While he had helped L'Oréal increase sales, Hermès experienced the downsides of social commerce when he criticized its new lipstick line in the spring of 2020, and his fans spread negative comments online. Also, in the handbag segment, a man – Tao Liang – has gained significant influence; he is called "Mr. Bag". Tao cooperates with companies such as Montblanc, Burberry, or Longchamps in the marketing of special editions. In addition to the big names, however, it also makes sense for brands to work with Grassroots-KOL that have smaller but loyal fan bases.
Implications for Brands
To remain relevant in the long term, it is crucial for brands to monitor social commerce platforms' developments closely, as they change rapidly with new functions and trends. The right platform must be selected. The platform should fit the marketing strategy and business model, not the marketing strategy derived from the platform.
Brands also need to remember to invest in the creation of user-generated content and providing a platform for it. This is one of the most effective ways to increase customer engagement and reach. Content that is highly relevant, attractive, and easy to understand promotes consumer engagement and increases brand affinity.
Thus, working with KOLs can bring many benefits for brands, as they strongly influence young buyers. However, the landscape of KOLs is very complex, and the right choice can be overwhelming for a brand. Local partners can help with a market strategy based on their market knowledge, insights, and experience.
Author
Mike Hofmann, MBA, is Managing Director of Melchers China in Beijing, a retail partner and service provider in China focused on premium brands. hofmann@bj.melchers.com.cn | www.melchers-china.com
This article was published in the German business magazine China Contact 06/2020 edition in the German language. This is a translation.