The digitalisation of the Chinese retail experience
---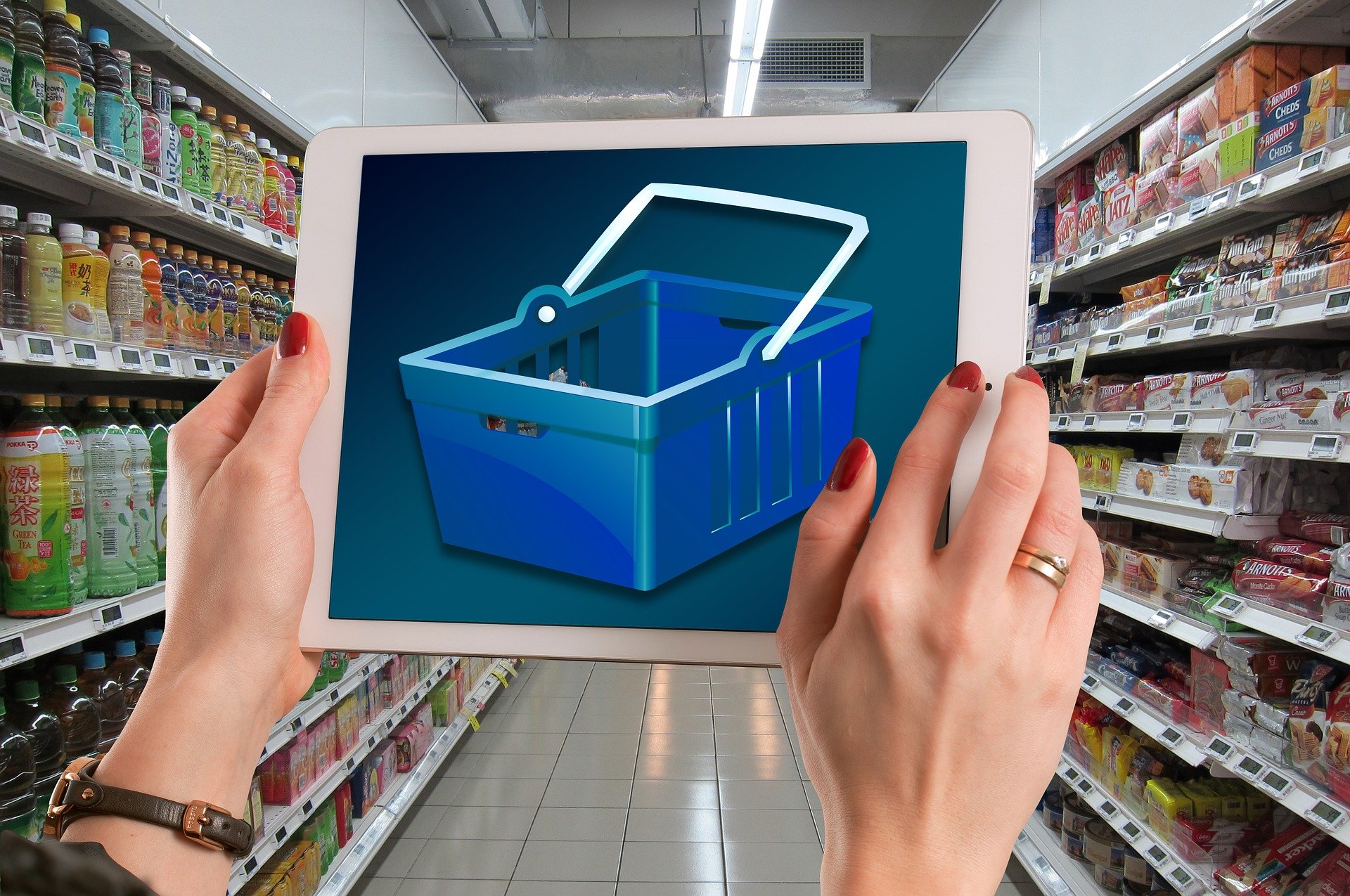 In this article, we'll look at the emergence of 'new retail' in China, its market size, key growth trends and the purchasing behaviour of consumers. We'll also be exploring how the retail landscape has changed in recent years and the opportunities it presents.
China's retail market size and growth trends
There are several key areas in which China retail is showing particular growth: these include e-commerce platforms, social commerce platforms, omnichannel strategies and improving the relationship between brands and customers in new and innovative ways.
In recent years, digitalisation in China has transformed the front-office of the retail industry offering both new sales channels and new marketing opportunities. Mobile commerce, secure platforms and big data analytics are becoming the key investment areas for retailers. Data-driven and customer-centric approaches are now commonplace throughout the value chain.
Consumer categories and related consumption behaviours
China's main consumer force consists of shoppers in their late 20s and early 30s. They not only buy products for themselves but also for their family and friends. Recent reports about this consumer group indicate that they will continue to be the driving force in Chinese retail consumption over at least the next decade.
This consumer group is also trading mass market products for more premium products, as their living standards improve exponentially. This is for a variety of reasons, including better education, a tendency to save less, increased online shopping and a desire to spend more on luxury goods and entertainment (Source: China Business Review).
All Chinese retail sectors have benefited from the retail boom – and no more so than the luxury sector (Source: Jing Daily). Disruptive and innovative marketing strategies have encouraged newer generations with more disposable income to purchase much higher volumes of luxury products, with luxury sector growth forecast to dwarf that of other developed economies by 2024. You can read more in our Melchers' article about the Chinese luxury goods market.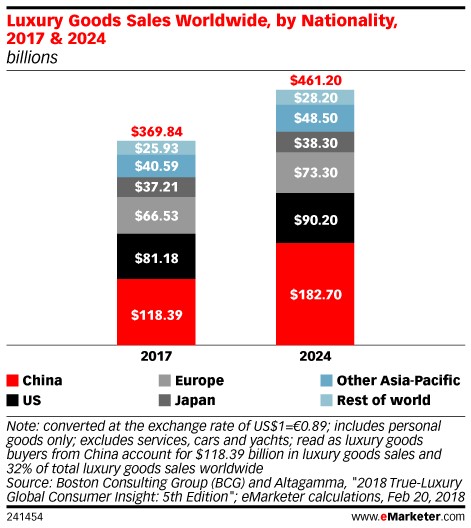 Source: eMarketer
Most retail consumption in China comes from first and second-tier cities, such as Beijing, Shanghai and Shenzhen. According to the government's 13th Five-Year Plan, it's estimated that over 60% of the population will live in urban areas by the year 2020. This means over 100 million more people will become urban consumers over the next few years, opening up even more potential for the retail market (Source: Chozan).
The transformation of China's retail landscape through integrated digital campaigns
The growth of e-commerce and digital channels within the Chinese retail market is part of an innovative push towards a more connected future. One way China is leveraging e-commerce is through the use of campaigns and brand 'storytelling' to entice new audiences. Integrated campaigns have helped to encourage sales and develop new relationships with target markets.
China's emerging consumer class has been given greater exposure to emerging offline retail technologies as well as to staple smartphone technologies, including what's called new online-to-offline (O2O) 'market transition technology'. For example, Aimer (a Chinese lingerie brand) launched an O2O Valentine's Day campaign which created a gamified version of a popular Chinese TV dating show known as 'If You Are The One' (Source: Jing Daily). The campaign was displayed in physical shopping malls across China and allowed couples to share an emotional experience via the Aimer App at the same time. This increased the likelihood of not only more products being purchased but also the acquisition of new customers as brand followers. By combining such a creative plot and integrated O2O strategy, Aimer's brand DNA was spread widely and received over 10 million plays online.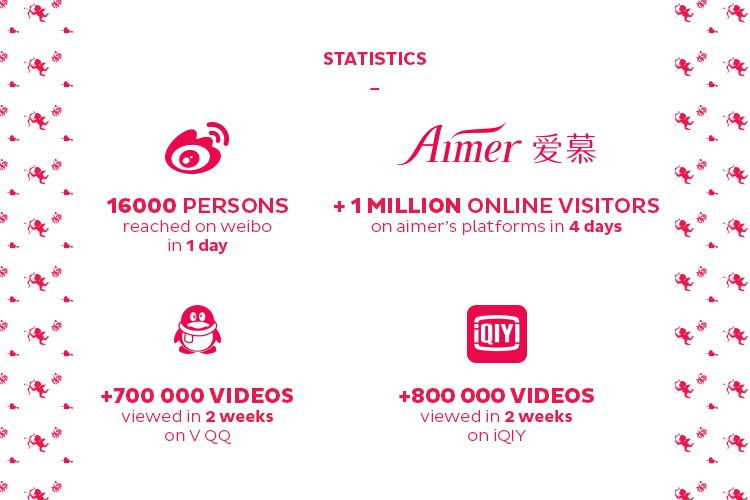 Source: Creative Capital
China has long been praised for its use of smartphones and mobile commerce, taking advantage of the high portion of its population who have access to these devices. The ubiquitousness of WeChat as a nationwide messaging, social media and payment App, has allowed simplistic but valuable communications between retail brands and consumers, both shopping in the home and outside the home both on the high street or in shopping malls.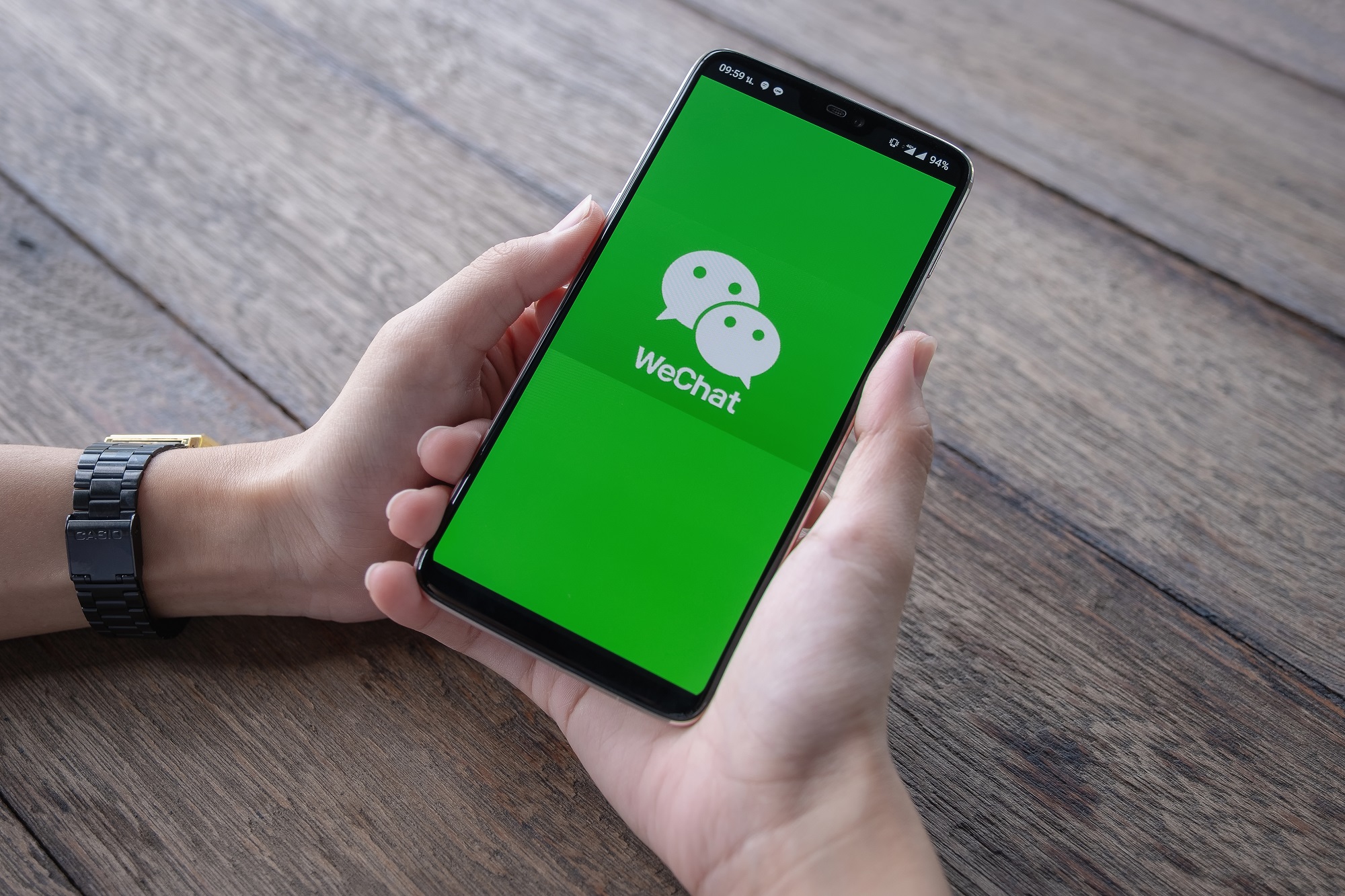 Once retail businesses are registered with WeChat, consumers can scan QR codes in order to 'follow' the brand, similar to signing up to newsletters but with much less hassle. Like newsletters, however, businesses are able to send direct promotions and messages in the form of audio, videos and text. Using these features they can further acquire and incentivise their ideal target market.
Utilising online shopping through the use of social media platforms, such as "The Little Red Book", also provides customers with the opportunity to connect with others who are interested in the same brand or product. This prompts a sense of social connectedness and enjoyment through the shopping experience and creates a sense of trust and community, increasing the brand's imagery and sales.
Even the way logistics and the supply chain is handled is currently being improved in relation to the Chinese retail sector. More and more companies are investing in ways to develop and improve their data acquisition technologies, information technologies, warehousing and transportation technologies (Source: Journal of Technology Management and Innovation)
How omnichannel strategies are being used to corner the market
The development of omnichannel retailing in China has created further growth in retail-related social interaction and an increase in digital branding experiences, both online and offline. Omnichannel can be defined as 'an integrated seamless experience across multiple devices and touchpoints' (Source: Spark Pay). Omnichannel also creates the opportunity for a wide variety of discounts to be made readily available across ALL retail channels to customers, giving them the chance to be even more involved with their favourite brands.
Omnichannel strategies are providing an entirely new way for Chinese retail businesses to interact with their consumers. China is paving the way for other countries by its example. From fresh produce vending machines to unmanned stores with facial recognition payment technology, nowhere else is doing omnichannel retail like China.

Source: Spark Pay
The success of omnichannel techniques is evident. In a recent survey from Think With Google, 71% of Chinese shoppers who use smartphones for shopping research while they are in-store said that it's become an important part of the retail experience. The same study shows that omnichannel shoppers have a 30% higher lifetime value than those who shop using just a single channel.
The future for retail in China
In terms of omnichannel retailing, various challenges need to be tackled by retailers to produce greater social inclusion and user-friendliness. Improving these aspects of the retail experience could allow companies to reach a wider target market and be an entry point for new businesses looking to expand into the Chinese retail market.
E-commerce is the major driving force in China's retail economy, changing all the time, with sales growing more than 30% to date in 2019, to reach USD 1.989 trillion/annum. This means 35.3% of China's retail sales now take place online – the highest rate of online retail sales anywhere in the world (Source: eMarketer). By the end of 2019, China
is forecasted to account for over 55% of global online retail sales. The opportunity to take advantage of the oncoming Chinese retail sales boom is clear.
How Melchers can support foreign businesses in the Chinese retail market
While the outlook for the Chinese retail space is promising and the numbers presented in this article are attractive for every foreign brand and retailer, entering China and being successful is easier said than done. Competition is cut-throat and as described, a company active in Chinas retail landscape needs to be agile and adaptive. Staying on top requires a strong commitment and investment from the foreign brand, paired with local market knowledge. Many companies have chosen to cooperate with a partner who is experienced and understands the local market to drive their business. With longstanding experience and knowledge on the Chinese retail landscape, deep understanding of local customer behaviour and a well-established distribution network, Melchers for instance, is able to offer tailored and brand-oriented market approaches. Melchers helps its brand partners to understand the Chinese premium consumer goods retail market, to quantify the scale and the competitor landscape and to identify short, mid and long term opportunities for market growth. Melchers is even able to provide fully integrated retail operation services if it is required by its brand partners.
For more information about establishing a retail presence, contact us at marketing@bj.melchers.com.cn.